WordPress is widely used to power websites. In fact, over 30% of websites on the internet are powered by this content management system. These statistics show that the innovative website creation tool is not only popular, but effective due to its plugin and template systems. But what are the best WordPress plugins to meet your needs?
Whether you're a beginner or a novice website designer, plugins are punch-packing tools that make your website managing experience easy and efficient. Below you can find 10 wonderful and effective plugins you can use to help supercharge your website or blog.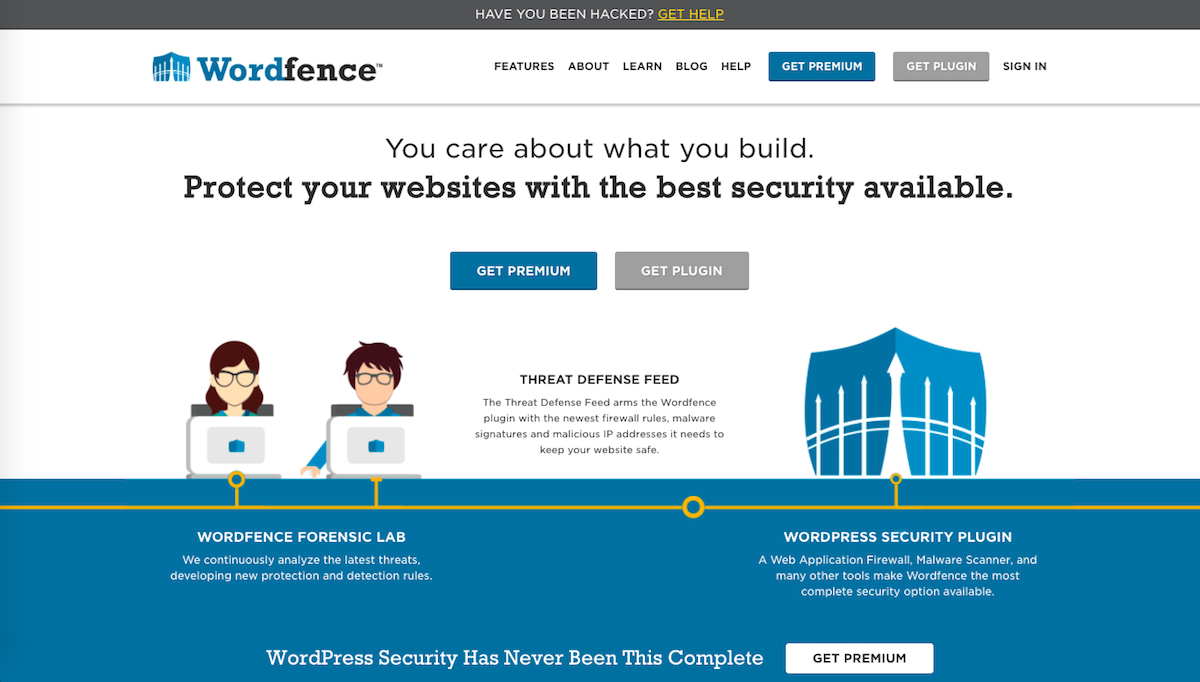 1) Wordfence Security
With a 4.8-star rating and over two million installations, this antivirus plugin is well-known in the WordPress community. Wordfence Security is a firewall and malware scanner that can do many security checks on your site. From identifying and blocking malicious traffic, to enforcing strong passwords and other login security procedures, it is widely used to help protect your site and its content. Its malware scanner checks SEO spam, inspects themes and plugins for malware, and eradicates bad URLs, backdoors, and issues with core files.
Additionally, Wordfence alerts you of any potential security issues that come up. The Wordfence team uses Live Traffic to keep track of hack attempts and visits not included in other analytics packages, including their IP address, the time of day of the attempt, and their origin.
With a top-notch WordPress firewall, security scanner, and security tools, Wordfence Security is supported by many WordPress users. Over 3,000 people gave it a five-star rating on the official WordPress site. It's easy to see why this is one of the best WordPress plugins around.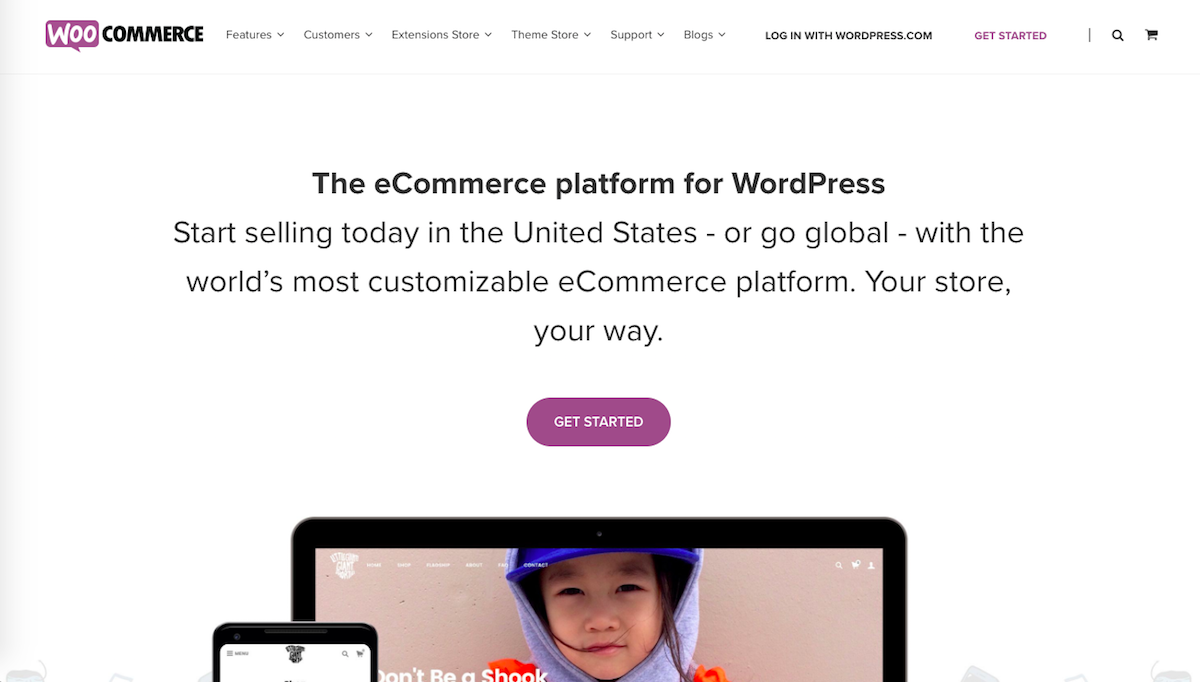 2) WooCommerce
Are you a merchant looking to sell products on your WordPress blog? Then look no further than WooCommerce. WooCommerce powers 30% of all online stores, more than any other e-commerce platform. This free and user-friendly plugin can truly do it all. Whether you're a fitness trainer looking to sell online coaching services, an artist interested in selling physical paintings, or a band trying to sell downloadable files from your latest album, WooCommerce supplies you with the tools you need to do it effortlessly.
You can sell physical and digital products through WooCommerce. You can also sell variations in products, instant downloads, and affiliate items through online marketplaces. Users can also modify their shipping prices, and WooCommerce can help open a shop up to the world by calculating shipping costs and tax rules immediately. You can even offer multiple kinds of payment options such as credit cards, bank transfers, cash on delivery, and PayPal. This allows your customers many options when purchasing products.
WooCommerce has over 2,400 five-star ratings and over four million active installations. If you're looking to sell products on your blog, and want the best WordPress plugins for your needs, your business can undoubtedly benefit from WooCommerce.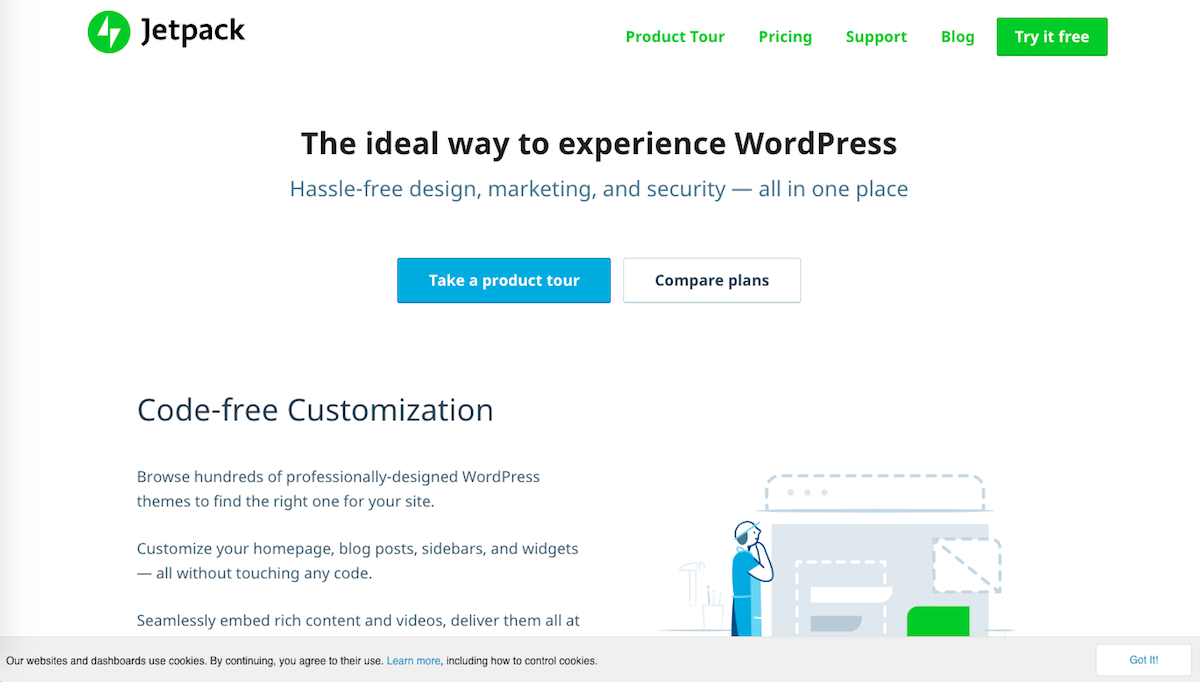 3) Jetpack by WordPress
This is one of the easiest plugin packages for beginner blogs to boost their blog's performance. Jetpack by WordPress.com is a free plugin that includes many different resources you can utilize in your website or blog. Everything from design, marketing, and security can be managed and customized through Jetpack.
Are you interested in cleaning up your website and making it more appealing to the eye? Not a problem! Jetpack assists users with installing hundreds of professional themes, customization tools, and high-speed image and video content delivery networking.
On top of that, their marketing services such as site stats and analytics, advertising programs, and SEO tools are the perfect foundation to promoting your site, as well as making money off of it. And lastly, security services like daily backups of your site, spam filtering, and malware scanning help protect your content from attacks.
Jetpack consists of many different tools that any type of website can benefit from. They also offer a global team of "Happiness Engineers" to help with Jetpack-related questions and support. Seriously, who wouldn't want to talk to a Happiness Engineer?
These reasons and more put WordPress' Jetpack high on our list of the best WordPress plugins for 2018.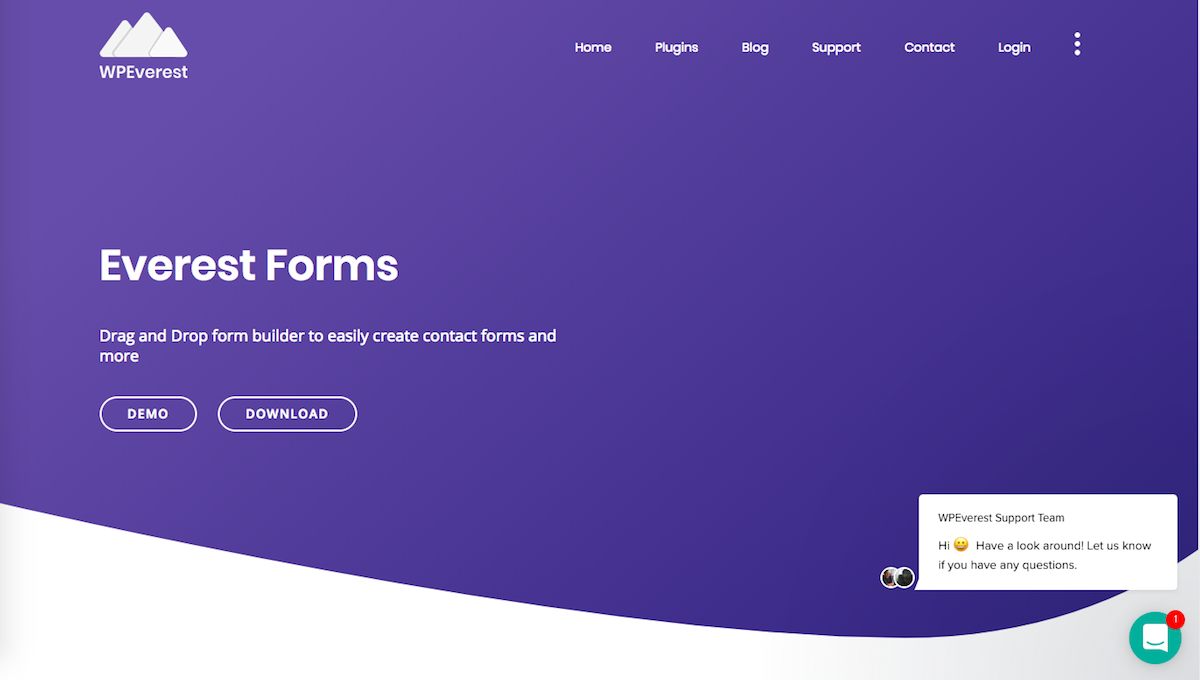 4) Everest Forms
Many communicative websites and blogs, particularly those that sell services, need customers and clients to fill out contact forms that are crucial to your success. An underrated, but successful plugin known as Everest Forms will do the trick.
This plugin is 100% mobile responsive and user-friendly! This means that a beginner WordPress user can build an exceptional form in minutes. Additionally, they can build it from their smartphone! Simply download and install the plugin to get access to many essential features like easy drag-and-drop form fields, shortcode support, radio, dropdowns, checkboxes, and more— with no restrictions!
This plugin is often referred to as simple and nicely-done, with excellent support at the WPEverest support forum. Let's face it: with how many things we manage on our websites, simple plugins are the best plugins. I much prefer this contact form over others I have used in the past.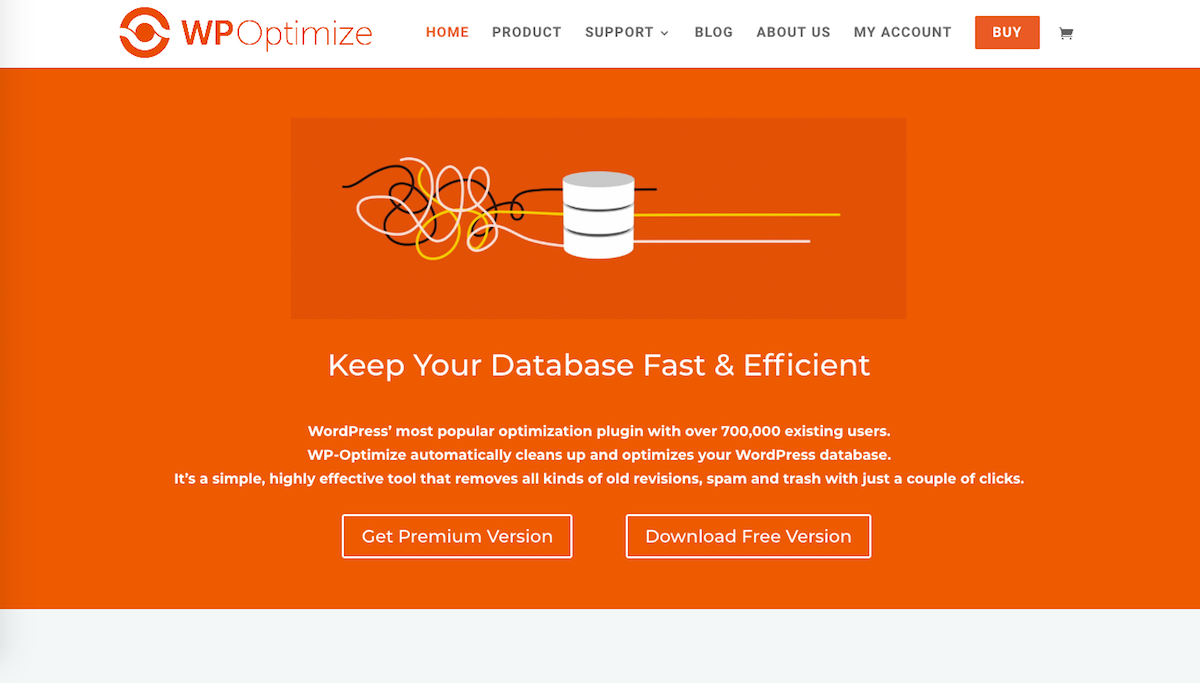 5) WP-Optimize
As one of the highest-rated plugins on this list, WP-Optimize is guaranteed to keep your database fast and efficient. With a 4.9-star review and over 900 ratings, WP-Optimize focuses on keeping your WordPress database clean so it runs quickly and efficiently.
So, what does it do to maximize efficiency? WP-Optimize removes unnecessary data, pingbacks, trackbacks and expired transient options. It performs automatic clean-ups on a weekly basis and allows you to control which optimizations you want to implement. Additionally, it's mobile-friendly display shows you database statistics and recommended features to further clean up your site.
In a nutshell, WP-Optimize lets WordPress users to make space instead of allowing old data to clog it up. Thanks to WP-Optimize reports, you can take control and examine database tables to manually open up wasted space. This plugin is crucial in keeping your website clean and running properly.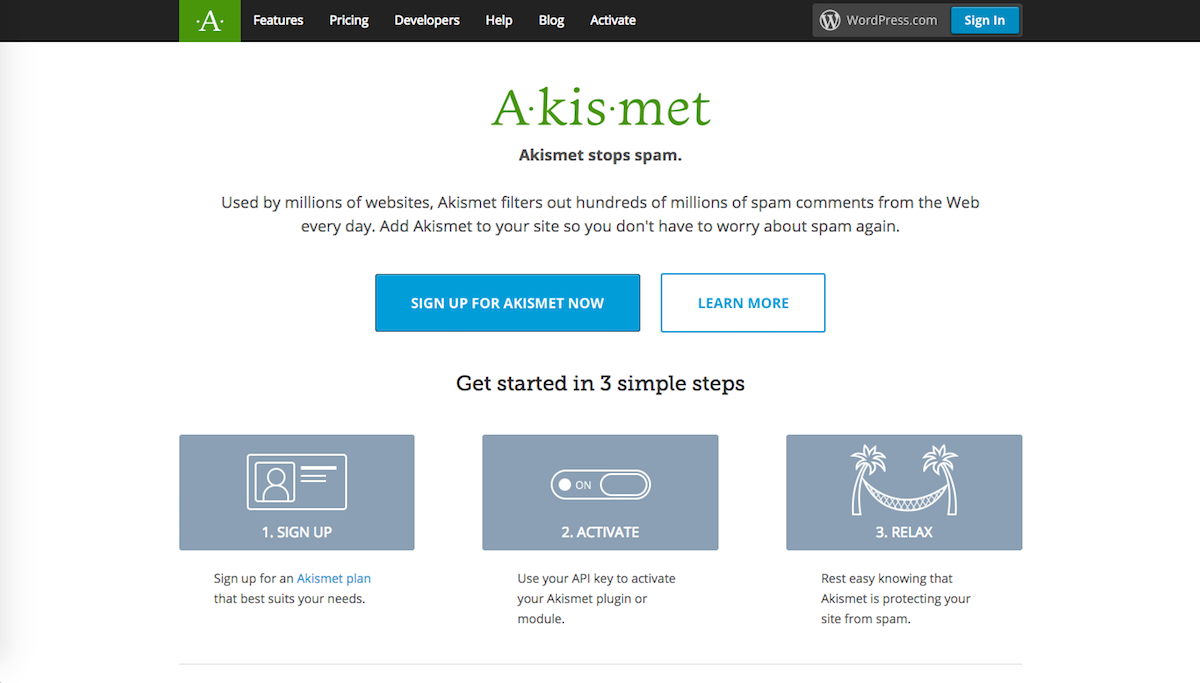 6) Akismet
To continue the trend of effective security plugins, this plugin will easily prevent future hassles. Whether you're a small blog or a large website, when visitors submit comments on your blog, a surprising amount of users will post spam.
The anti-spam plugin known as Akismet registers comment spam through your website's "comments" admin screen. It checks all comments and filters out those that look like spam. Additionally, it saves comment history so users can examine it and determine which are spammed or unspammed by a moderator.
Spam not only affects the appearance of your site, it allows dangerous links and other content to be spread easily, so anti-spam plugins are absolutely necessary for any website. Akismet is a simple anti-spam plugin that gets to work right after it's uploaded and installed. Comment spam is obnoxious for commenters and readers alike, and Akismet does a phenomenal job preventing them from entering your website's comment space.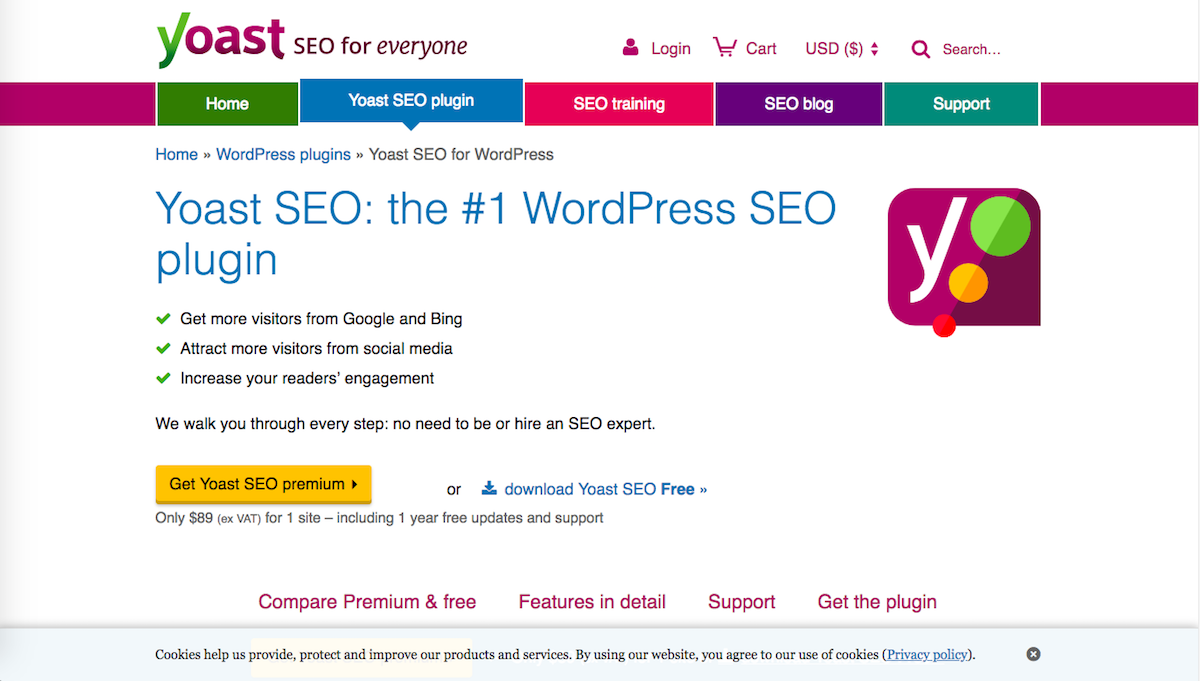 7) Yoast SEO
Search engine optimization, also known as SEO, is crucial in allowing your site to be seen by the masses. As one of the best content analysis plugins on WordPress, Yoast SEO helps your site appeal to search engine spiders and visitors through many advanced features.
It helps tune your website's engine so you can publish exceptional content and uses internal linking features to optimize your site structure. Additionally, it integrates with Google Search Console. This allows users to see how their blog performs, allowing them to fix crawl errors in the process. Its advanced XML Sitemaps help you care for your WordPress SEO and even sets canonical URLs to avoid duplicate content. This can severely affect your SEO. Title and meta description templating are available as well, for those interested in top-notch branding and consistent snippets in search results.
This plugin has nearly 22,000 5-star ratings and over five million active installations. Yoast SEO is well-known and used by many successful WordPress sites; it's truly for everyone!
WordPress user Carolet45 said, "Although I haven't had experience of other SEO plug-ins I can't imagine a better support tool than Yoast. there is so much simple help on each page and regular blogs and training. Couldn't wish for more!"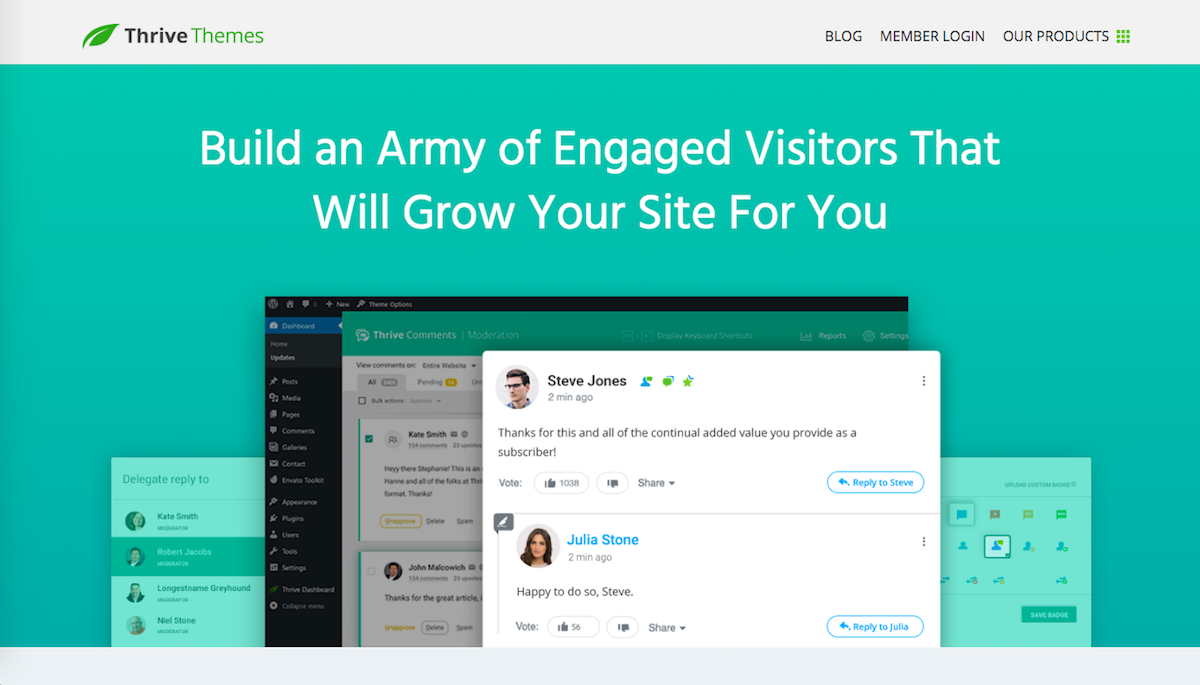 8) Thrive Comments
Depending on your type of blog, building a community and interacting with followers and subscribers can be pivotal in gaining traffic. Almost all successful content websites host public forums for visitors and followers to post their comments. Unfortunately, not all of them promote conversations, but the features in the Thrive Comments plugin do.
When you insert Thrive Comments onto your website, you install a conversation-inducing outlet for your visitors. Visitors can "like" comments, earn badges and achievements, earn validation through up-votes and a featured comment system, and even share their comments onto social media outlets like Facebook. You can additionally redirect commenters to a page of your choice, respond to commenters with custom messages, and even show products and incentives to commenters.
Not many comment plugins can benefit the marketing aspect of your website, so this is definitely a plugin you will want to consider using. Thrive Comments makes interaction significantly more engaging. It is even referred to as the "best and fastest WordPress Comments Plugin Released to Date."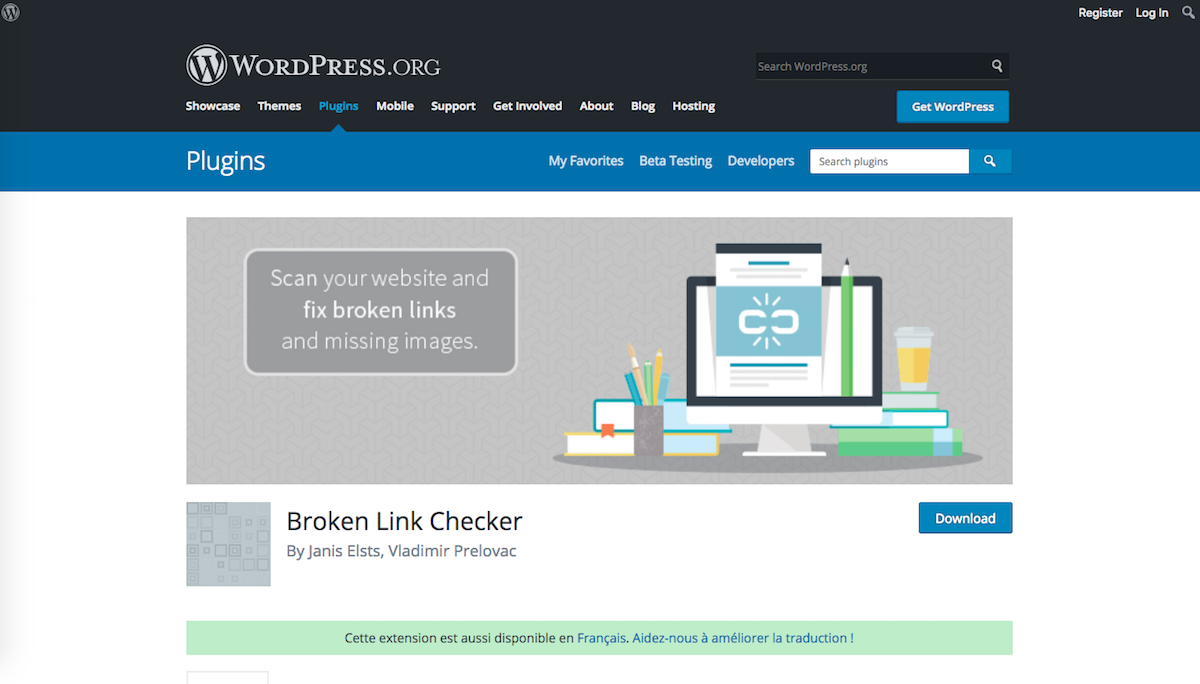 9) Broken Link Checker
The title of this plugin is pretty straightforward. Developed by Janis Elsts and Vladimir Prelovac, the Broken Link Checker scans your website for broken links and missing images before notifying you of them.
Are you are a content writer that consistently embeds photos into your articles? Have you noticed sometimes photos are magically gone from your gallery? This can severely affect the way your article looks to visitors. Having a plugin that monitors your blog and notifies you of broken links is an effective way to keep your blog in tip-top-shape.
This maintenance plugin saves you the hassle of manually examining content for broken links. The Broken Link Checker scans links in your comments, pages, posts, blogroll, and custom fields. It finds missing images, missing redirects, and missing redirects and notifies you of them through your WordPress dashboard.
Yes, it's really that easy.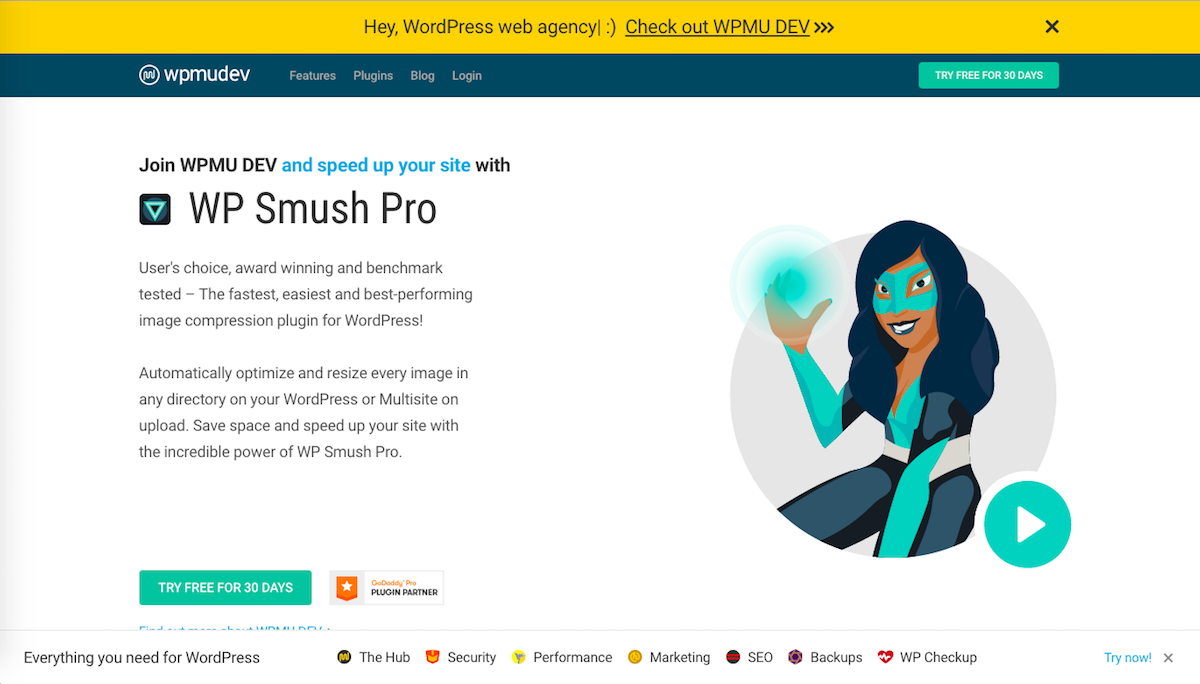 10) Smush Image Compression and Optimization
The last plugin has over one million active installations and over 3,500 five-star reviews. The award-winning image optimizer Smush Image Compression and Optimization is well-renowned for its top-quality and fast optimizing processes.
For those unaware, image optimization compresses and resizes images while retaining the quality and transparency. With Smush Image, users an optimize, compress, and even resize images with this "incredibly powerful and 100% free WordPress image smusher." The plugin scans every image uploaded and rids it of any unneeded data. It then scales it and adds it to your media library. After that, you are free to upload your top-quality image where you see fit!
An interesting aspect of this plugin is how little people know about image optimization. Compressing your images can truly supercharge your blog, making editing, publishing, and browsing significantly faster than before. Images take up a huge amount of space, both size and data-wise, so optimizing them is extremely important in running an efficient website.
WordPress user KarlCW gave Smush Image Compression and Optimization a five-star review. He commented "I had no idea that my page load time was being dragged down by the images. The plugin nearly halved the time it took."
WordPress user Helen432, who previously used Photoshop to optimize her photos, also reviewed the plugin.
"I optimize my photos in Photoshop, but Smush makes it so easy— it does it automatically. I can just sit back and enjoy the speed."
This product is developed by WPMU Dev, who has a complete suite of plugins and themes for every WordPress site's needs.
The Best WordPress Plugins: Conclusion
Plugins have endless capabilities. They are extremely effective in improving the functionality of your website. From organizing your content, to increasing security and protecting it from damage, to reaching out to higher audiences— they should absolutely be utilized by all WordPress bloggers. And remember: it's not about the number of plugins you install, it's the quality of the plugins you choose.
This list of diverse, high-quality plugins can truly help supercharge your website or blog. They address: security, content organization, search engine optimization, and site appearance. They not only help you as a site owner but your audience and visitors as well. This allows you to reach the goals you have set for your site.
These plugins are positively reviewed by the community and are installed in millions of websites across the globe. Check them out today and see what they can do for your blog!